Formosan Taiwan Mountain Dog
The Formosan Mountain Dog, also known as the Taiwan Dog, is a breed of dog that is indigenous to Taiwan. It is a medium-sized dog with a muscular body, a wedge-shaped head, and pointed ears. Its coat can come in a variety of colors, including black, white, brown, and brindle.
The Formosan Mountain Dog has a long history in Taiwan, where it was originally used as a hunting and working dog. However, due to urbanization and a decrease in the need for these types of dogs, the breed faced extinction. In recent years, there has been a renewed interest in the Formosan Mountain Dog, and efforts have been made to preserve the breed.
The Formosan Mountain Dog is known for its loyalty, intelligence, and strong prey drive. It can make a great companion for active families who enjoy outdoor activities. However, due to its high energy level and natural hunting instincts, it requires plenty of exercise and training.
Notify Me on Book Launch!
Take A Look Inside The Book
Temperament and Behaviour
Temperament and Behaviour
In depth topics about the Taiwan Mountain Dog
Online resources and adoption agencies for finding your perfect Formosan
Dealing with a Taiwan Dog's nearvous and initial fearful behavior
Typical Formosan Behavior, Understanding Your Puppy & Building a Bond
Exercise – How Much & How Often and What Kinds
Obedience Training, incl. Sit, Stay, Recall, Leash & Clicker Training
Choose a package below that suits your needs
In 2009, Steven adopted and rescued his first Formosan Taiwan Mountain dog named Cookie who was living with a foster mom. Steven quickly fell in love with Cookie and became extremely curious and fond of this breed of dog.
End of 2010, Steven rescued yet another Taiwan dog named Chase who flew all the way from Taiwan with his foster mom to be part of his new family.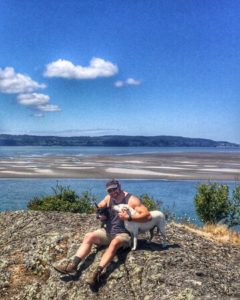 Send me your comments and/or questions